What Are Halo Hair Extensions?
You've probably heard of them, but what are Halo hair extensions? And what actually is the difference between Halo, Clip-in and the other hair extension methods? So many questions. Let's just have a quick look at the different types of extensions available before we explain further.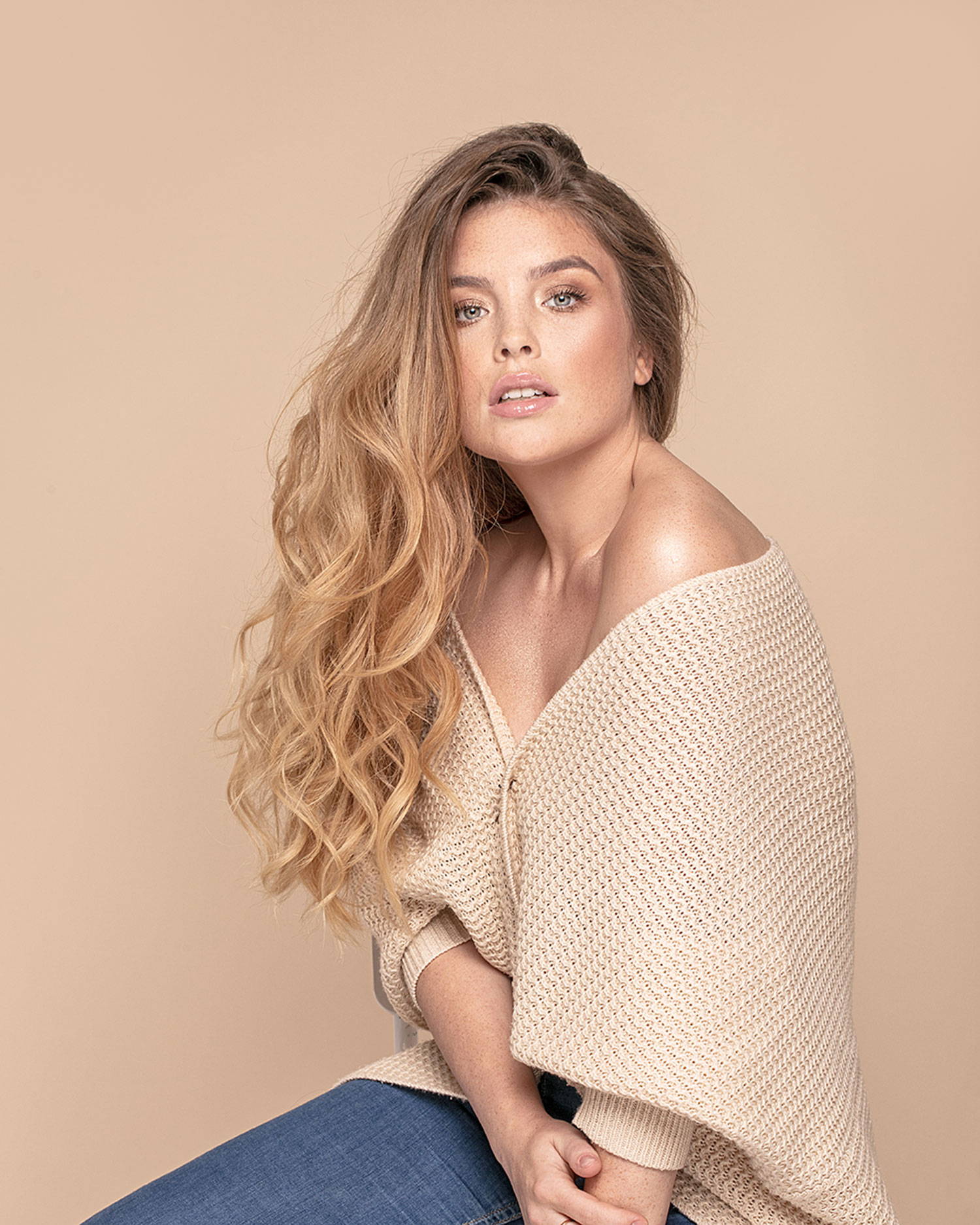 DIFFERENT TYPES OF MEDUSA HAIR EXTENSIONS
Most hair extensions create longer, and fuller hair by attaching wefts (sections) of hair to your own hair in one of the following methods:
Clip-in
extensions attach to your hair using clips.
Tapes
attach to your hair using adhesive tapes.
Microbeads
attach to your hair using a bead. The bead is crimped to your hair to fix the extension in place.
Weaves
are wefts of hair that are tightly woven into your hair.
Glues
are bonded into your hair using hot glue.

To get the best results from most of the above methods, we suggest you ask a hair extension expert at your favourite salon to apply them for you.

Halo extensions are the newest method of adding length and volume to your hair. And the best news is, you're in for a treat because you don't need time, glue, tape, beads or lots of clips with these babies!
The hair literally sits on your head, gently held in place with one invisible loop of wire, like a halo. Three silicone-lined clips keep the Halo comfortable and secure all day and night so there's no risk of it slipping or becoming uncomfortable. Because one size never fits all, we also provide three different lengths of wire with the clips attached to give you the option of adjusting to suit your head size.
SHOULD YOU BUY CLIP INS OR HALO
Clip-In Extensions – are super versatile and look great! You can choose how many wefts (sections of hair), you want to use depending on how much volume you want. With a little patience and practice, you can easily apply them at home in about 20 minutes. But on the downside, if you wear your Clip-Ins too often and don't move the wefts around on your head, you may experience some damage and hair loss. Not ideal! That's why we recommend saving your Clip-Ins for weekends and those special occasions when you really want to feel good and wow everyone with your lush locks.
Halo Extensions – on the other hand, are super easy to apply in under a minute. Once cut to style, you never have to fuss with your Halo again. Simply slip it on and away you go.
So while both are fantastic, easy hair options, Clip-Ins are the best option if you want lots of length and extra volume just for weekends and special occasions, while Halo hair is excellent for daily use as it is quick and easy to apply and won't damage your hair. Each extension type serves a specific purpose so there is no 'better' choice between the two, in fact, we recommend having a set of each to guarantee you'll never have to deal with a bad hair day again.
Just a tip – when you receive your Halo, book a visit with your salon stylist and ask them to cut the hair to match your hairstyle. You will only have to do this once, and from then on, you'll be able to slip it on and clip, clip, clip in around 30 seconds. Too easy!
Here's the wrap on Medusa Halos. They are custom made to perfectly match your hair and available in the following:
16 Inch – 22 Inch length

40g-160g weight

Straight & wavy

100% Indian Remy hair

Adjustable sizing
And remember, if you need some advice when ordering your Medusas, send a message via the Chat button on our website or contact us HERE. We're more than happy to help!
Love, Medusa 🌸 xx
---